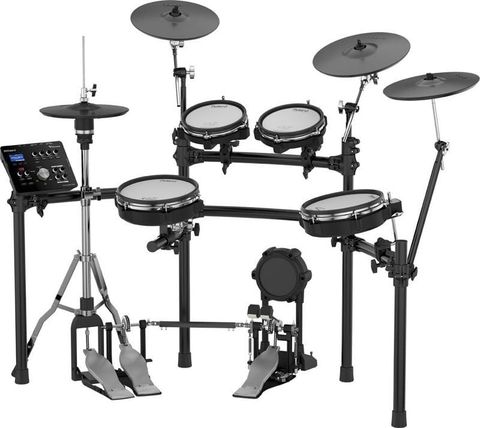 ROLAND TD-25KV + MDS-9V ELECTRONIC DRUM
Tình trạng: Còn hàng
Giá đã có VAT
Showroom ACE Music: 70 Phan Khiêm Ích, P. Tân Phong, Quận 7, HCM

Showroom Việt Thương Loan Phương Thảo: 1A Đường 3 Tháng 2, P.11, Quận 10, HCM
CAM KẾT SẢN PHẨM CHÍNH HÃNG

VUI LÒNG GỌI 0909 168 742 ĐỂ CÓ GIÁ TỐT

Dynamic, Expressive Playability and Quick Customization
With the TD-25KV, serious drummers can tap into high-end V-Drums playability in a mid-level kit for home and studio. Equipped with a sound engine derived from the flagship TD-30, the TD-25KV delivers all the acclaimed expressiveness that makes Roland's top-line V-Drums the undisputed choice of pro players everywhere. A streamlined interface makes it easy to create personalized kits, while the built-in audio recording function lets you capture drum performances for evaluation and sharing. Other premium features include mesh-head pads for a natural feel, positional snare sensing for enhanced expression, and the VH-11 V-Hi-Hat for playing with authentic hi-hat techniques.
Customize Kits for Your Personal Style
The TD-25KV makes it simple to edit sounds to suit your playing touch or a specific style of music. Just hit a pad to call up the sound assigned to it, and then use the module's knobs to select instruments and tweak tuning, muffling, and levels. Handy shortcuts greatly speed up tom editing, allowing you to assign sounds and change the muffling and tuning for all the toms at once. Your changes are saved automatically as you edit, eliminating the need to fuss with extra steps. If you don't like your most recent tweaks, you can easily undo them and return to where the kit was at when you first selected it.


Play Along with Tracks and Record Audio Performances
Want a little jamming music to play along with? Just load up a USB memory stick with favorite WAV/MP3 songs and get lost in playing for hours. In addition to normal playback, you can loop sections you'd like to work on, or slow the playback speed to more easily learn fast fills and articulations. Alternately, you can plug a smartphone into the audio input and drum with songs from your music library or the web. It's also possible to record your drumming performances (along with music playback) as audio files to a USB memory stick, offering a great way to evaluate your playing and share your drumming with friends and music producers. The sound module is equipped with a USB host port as well, providing a convenient connection for recording audio and MIDI data directly into DAW software.
KIT CONFIGURATION
Drum Sound Module: TD-25 x 1
V-Pad (Snare): PDX-100 x 1
V-Pad (Tom1, Tom2): PD-85 x 2
V-Pad (Tom3): PDX-100 x 1
V-Hi-Hat: VH-11 x 1
V-Cymbal Crash: CY-12C x 2
V-Cymbal Ride: CY-13R x 1
Kick Pad: KD-9 x 1
Drum Stand: MDS-9SC x 1 (sold separately)
OTHER
Extra Trigger Input Jack: 1 (AUX)
Accessory: Drum Key, Setup Guide
*Kick pedal, hi-hat stand and drum throne are not included.
Options (sold separately):
Personal Drum Monitor: PM-10
Stereo Headphones: RH-300V
V-Drums Accessory Package: DAP-3X
V-Drums Mat: TDM-10, TDM-20
SIZE AND WEIGHT (INCLUDES MDS-9SC, SOUND MODULE, KICK PAD, CYMBALS, AND DRUM THRONE)
Width: 1300 mm 51-3/16 inches
Depth: 1200 mm 47-1/4 inches
Height: 1250 mm 49-1/4 inches
Weight: 26.5 kg 58 lbs. 7 oz.