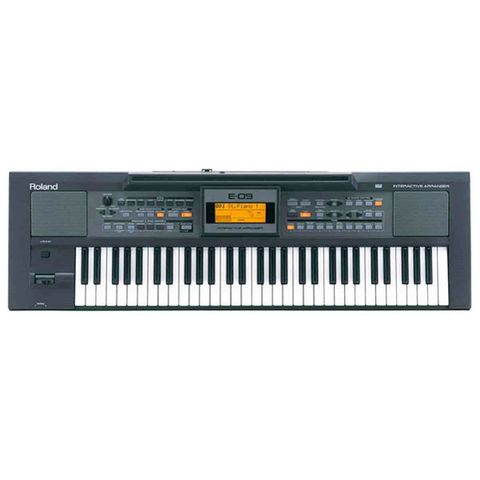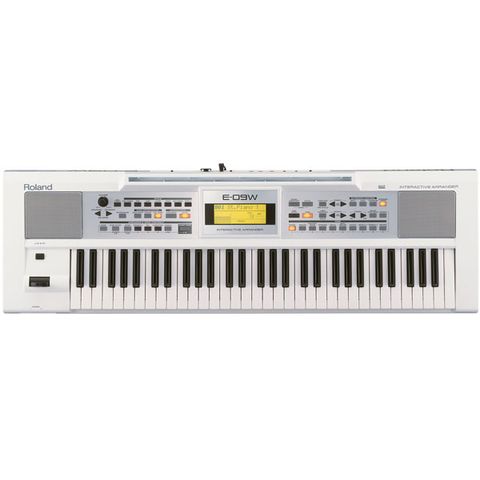 ROLAND E-09 INTERACTIVE ARRANGER
Tình trạng: Còn hàng
Showroom ACE Music: 70 Phan Khiêm Ích, P. Tân Phong, Quận 7, HCM. Hotline 0909168742
Showroom Việt Thương Loan Phương Thảo: 1A Đường 3 Tháng 2, P.11, Quận 10, HCM. Hotline 0913919513
ĐẠI LÝ CHÍNH THỨC CỦA CÔNG TY YAMAHA MUSIC VIỆT NAM
ĐẠI LÝ CHÍNH THỨC CỦA CÔNG TY VIỆT THƯƠNG MUSIC
✔️ CAM KẾT NHẠC CỤ ĐƯỢC NHẬP KHẨU PHÂN PHỐI CHÍNH HÃNG CÓ ĐẦY ĐỦ GIẤY TỜ CHỨNG NHẬN
✔️ QUÝ KHÁCH VUI LÒNG GỌI TRỰC TIẾP CÓ GIÁ TỐT NHẤT HÔM NAY
✔️ GIAO HÀNG COD TRÊN TOÀN QUỐC


PRICE-DEFYING PERFORMANCE
Its price might say "budget," but the E-09's sounds and styles are nothing but first class. Building on the success of Roland's popular E-series arranger keyboards, the E-09W raises the quality standard for entry-level arrangers. The E-09 is now available in black or white colors.

- High-quality sound engine with 870 tones and 70 drum kits; GM2 compliant
- Interactive musical styles, including Western, Middle Eastern and Asian
- 64-voice polyphony
- 47 Multi-FX plus reverb and chorus
- 16-Track recorder
- Friendly Music Assistants, One-Touch settings
- High-performance speaker system onboard, plus two headphone jacks
Stylish Design
Who says an affordable keyboard has to look cheap? The E-09 is a stylish instrument that proudly wears the Roland logo. Its sleek,low-profile body is accentuated by colorful, friendly buttons and an easy-to-read backlit LCD. Now you can choose from two classic colors, black (E-09) or white (E-09W).

Interactive Styles
You don't have to be an accomplished keyboardist to make great music with the E-09. Right out of the box, it's loaded with dozens of one-touch patterns that you can control and embellish for an impressive performance. Onboard styles include Western, Middle Eastern and Asian.

Great Sounds
Roland is world-famous for creating instruments with stunning sounds, and the E-09 is no exception. An entire world of tone is available at the touch of a button, from orchestral to modern and beyond. Every sound can be customized and enhanced with the powerful multi-effects processor.

16-Track Recorder
The E-09's impressive sounds and interactive styles make it a great tool for creating songs. That's why Roland equipped this keyboard with a built-in 16-track recorder for capturing and developing your musical ideas. There's even a Music Assistant for quick, friendly operation.

- Keyboard: 61 keys (with velocity)
* SOUND GENERATOR
- Maximum Polyphony: 64 voices
- Parts: 16 parts + Keyboard part
- Wave Memory: 32 M bytes equivalent
- Tones
Tones: 614 + 256 (GM2), Drum Sets: 61 + 9 (GM2)
- Effects
Multi-FX: 47 types, Reverb: 8 types, Chorus: 8 types
- Transpose: -12 to + 12 (in semitones)
* ARRANGER
- Tempo: 20 to 250
- Styles: 130 Styles
- Band Orchestrator
3 types: Drum
- User Program: 100 program
- One Touch Setting: 2 setting / style
- Control: start/stop, sync start, intro original, fill in, variation, ending, tap tempo, Melody Intelligence: 18 types, Music Assistant: 130 types
* METRONOME
- Signature: 1/4, 2/4, 3/4, 4/4, 5/4, 6/4, 6/8, 9/8
* SONG CONTROLS
- Tracks
16
16-track Recorder Mode
4 easy modes (ALL, Keyboard, Single, Punch In/Out)
- Control: start/stop, reording, reset, rewind, forward, marker A-B, repeat A-B
* OTHERS
- Rated Power Output: 7.5 W + 7.5 W
- Speaker Dimension: 10cm
- Controllers
Pitch Bend/Modulation Lever: 1
- Display: Large backlit custom LCD
- Connectors: Output Jacks (L/MONO, R), Headphones Jack 1/2, MIDI Connectors (IN, OUT), Foot Switch Jack
- Power Supply: DC 9 V (AC Adaptor)
- Current Draw: 2,000 mA
- Accessories: Music rest, Owner's Manual, AC Adaptor (PSB-1U)
- Options
Keyboard Stand: KS-12, Pedal Switch: DP Series, Foot Switch: BOSS FS-5U
* SIZE AND WEIGHT
- Width: 1,045 mm
- Depth: 320 mm
- Height: 128 mm
- Weight: 7.3 kg.