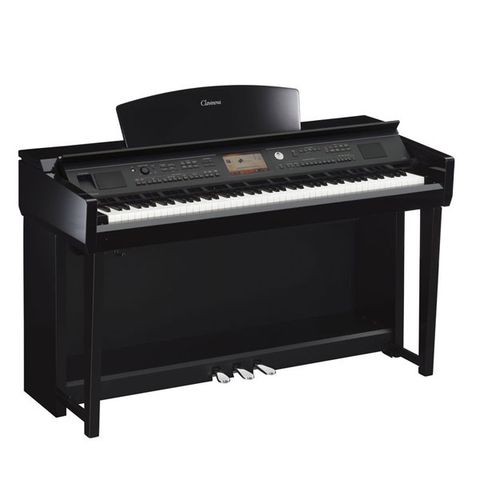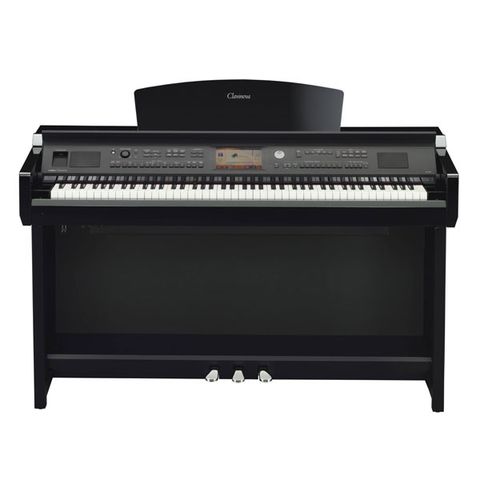 Featuring the Real Grand Expression (RGE) Sound Engine for outstanding playing response and the NWX (Natural Wood X) keyboard with escapement, and with synthetic ivory keytops for classic piano touch, the CVP-705 offers extremely high-quality piano performance.
But you'll also get a level of musical fun and interactivity only found on Yamaha CVP Clavinovas. Choose from hundreds of ultra-realistic instrument Voices. Learn to play hit songs with professionally-arranged accompaniment. Plug-in a microphone to sing-along with on-screen lyrics for karaoke fun. Plus, you can add lush harmonies to your singing voice with virtual backup singers. The color touch panel is simple to understand and makes operating a wide selection of functions quick and easy. You can also wirelessly connect your iPhone, iPad or iPod touch to easily share the music you make with friends. With the CVP-705, endless musical fun is always close at hand.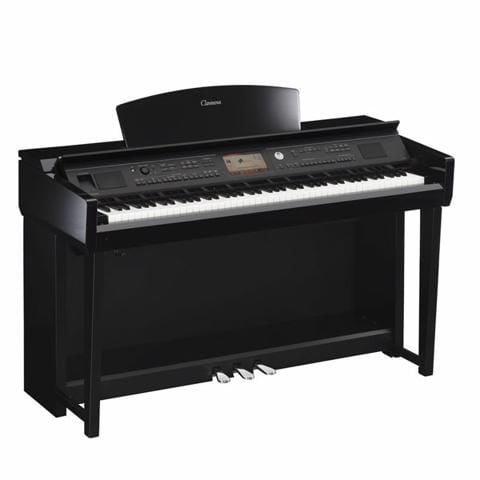 ACE Music tự hào khi trở thành đại lý chính thức của Công ty TNHH Âm Nhạc Yamaha Việt Nam cho các sản phẩm nhạc cụ: PIANO GỖ, DIGITAL PIANO, PORTABLE KEYBOARD, B&O, SYNTHESIZER, GUITAR, DRUM, PROFESSIONAL AUDIO, AUDIO VISUAL,.... Chúng tôi vinh hạnh là cầu nối giúp mang đến Quý khách hàng những sản phẩm nhạc cụ chất lượng chính hãng với giá tốt nhất.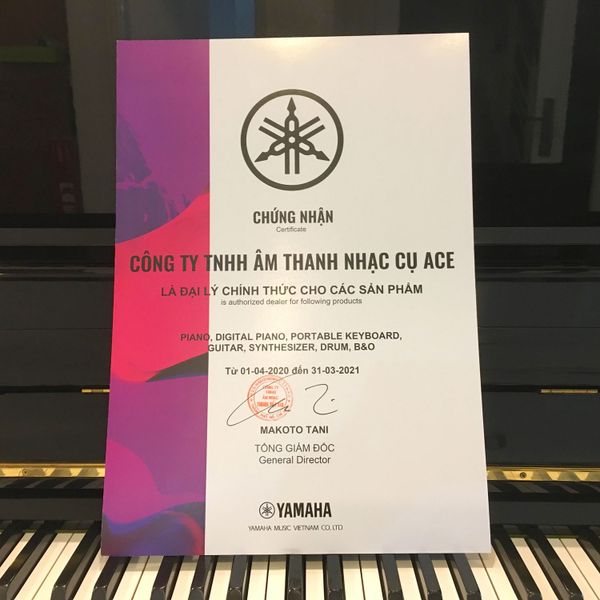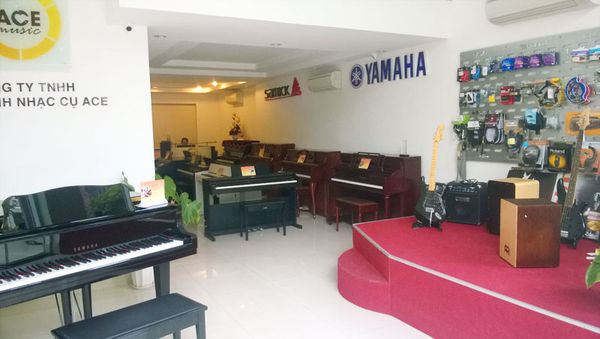 * Size/Weight
- Dimensions
Width: 1,420 mm (55-15/16") (Polished finish: 1,422 mm (56"))
Height: 868 mm (34-3/16") (Polished finish: 872 mm (34-5/16"))
Depth: 606 mm (23-7/8") (Polished finish: 607 mm (23-7/8"))
- Weight
Weight: 77.4 kg (170 lbs., 10 oz) (Polished finish: 80.1 kg (176 lbs., 9 oz))
* Control Interface
- Keyboard
Number of Keys: 88
Type: NWX (Natural Wood X) keyboard with synthetic ivory keytops (wood is used for the white keys), escapement
Touch Sensitivity: Hard2, Hard1, Medium, Soft1, Soft2, Fixed
- Pedal
Number of Pedals: 3
Half Pedal: Yes
Functions: Sustain, Sostenuto, Soft, Glide, Song Play / Pause, Style Start / Stop, Volume, etc.
- Display
Type: TFT Color LCD
Size: 7 inch (800 x 480 dots WVGA )
LCD Brightness: Yes
Touch Screen: Yes
Color: Yes
Score Display Function: Yes
Lyrics Display Function: Yes
Text Viewer Function: Yes
Language: English, Japanese, German, French, Spanish, Italian
- Panel: Language: English only
* Cabinet
- Key Cover: Key Cover Style: Folding
- Music Rest: Yes
- Music Clips: Yes
* Voices
- Tone Generation
Piano Sound: Yamaha CFX, Bösendorfer Imperial
Key-off Samples: Yes
Smooth Release: Yes
VRM: Yes
- Polyphony
Number of Polyphony (Max.): 256
- Preset
Number of Voices: 984 Voices + 33 Drum / SFX Kits + 480 XG Voices
Featured Voices: 13 VRM Voices, 114 Super Articulation Voices, 30 Mega Voices, 46 Natural! Voices, 31 Sweet! Voices, 74 Cool! Voices, 86 Live! Voices, 30 Organ Flutes! Voices
- Custom
Voice Edit: Yes
- Compatibility: XG, GS (for Song playback), GM, GM2
* Effects
- Types
Reverb: 58 Preset + 3 User
Chorus: 106 Preset + 3 User
Master Compressor: 5 Preset + 5 User
Master EQ: 5 Preset + 2 User
Part EQ: 27 Parts
Intelligent Acoustic Control (IAC): Yes
Stereophonic Optimizer: Yes
Insertion Effect: 322 Preset + 10 User
Variation Effect: 322 Preset + 3 User
Vocal Harmony: VH2: 44 Preset + 60 User
- Functions
Dual/Layers: Yes
Split: Yes
* Accompaniment Styles
- Preset
Number of Preset Styles: 470
Featured Styles: 396 Pro Styles, 34 Session Styles, 4 Free Play Styles, 36 Pianist Styles
Fingering: Single Finger, Fingered, Fingered On Bass, Multi Finger, AI Fingered, Full Keyboard, AI Full Keyboard
Style Control: INTRO x 3, MAIN VARIATION x 4, FILL x 4, BREAK, ENDING x 3
- Custom
Style Creator: Yes
- Other Features
Music Finder: 2,500 Records
One Touch Setting (OTS): 4 for each Style
Style Recommender: Yes
- File Format
Style File Format GE (Guitar Edition)
* Songs
- Preset
Number of Preset Songs: 124
- Recording
Number of Tracks: 16
Data Capacity: approx. 300 KB / Song
Recording Function: Yes
- Compatible Data Format
Playback: SMF (Format 0 & 1), XF
Recording: SMF (Format 0)
* Functions
- Demo: Yes
- Registration
Number of Buttons: 8
Control: Registration Sequence, Freeze
- Lesson/Guide
Lesson/Guide: Follow Lights, Any Key, Karao-Key, Your Tempo
Guide Lamp: Yes
Performance Assistant Technology (PAT): Yes
- Piano Room: Yes
- USB Audio Recorder
Playback: WAV, MP3
Recording: WAV, MP3
- USB Audio
Time Stretch: Yes
Pitch Shift: Yes
Vocal Cancel: Yes
- Miscellaneous
Metronome: Yes
Tempo Range: 5 - 500, Tap Tempo
Transpose: Yes
Tuning: Yes
Scale Type: 9
* Storage and Connectivity
- Storage
Internal Memory: approx. 2.4 MB
External Drives: USB Flash Drive
- Connectivity
Headphones: x 2
Microphone: Input Volume, Mic / Line In
MIDI: IN / OUT / THRU
AUX IN: Stereo mini
AUX OUT: L / L + R, R
AUX Pedal: Yes
RGB OUT: Yes
USB TO DEVICE: Yes (x 2)
USB TO HOST: Yes
* Amplifiers and Speakers
- Amplifiers: (50 W + 20 W) x 2
- Speakers: (16 cm + 5 cm) x 2 [(6 - 5/16" + 1 - 15/16") x 2]
- Acoustic Optimizer: Yes
- Power Supply
- Power Consumption: 55 W
Accessories
Accessories: Owner's Manual, Data List, "50 Greats for the Piano" Music Book, My Yamaha Product User Registration, AC Power Cord, Bench (included or optional), USB Wireless LAN Adapter (may be included depending on your locale.).