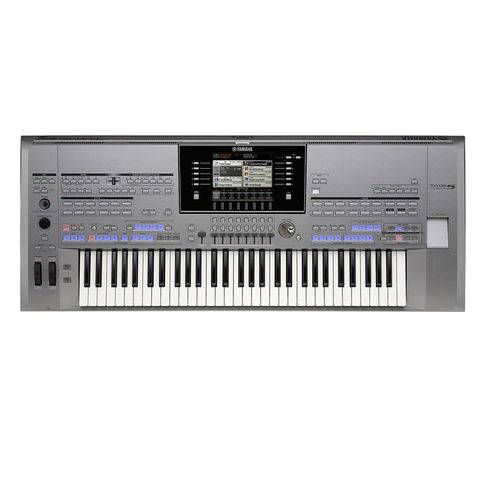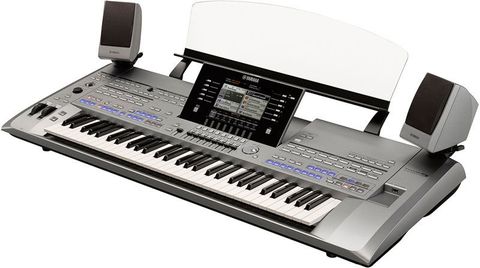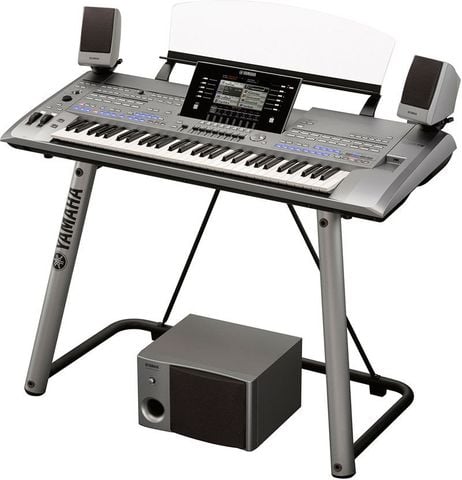 The Power of Reality
An outstanding performance keyboard with authentic sounds, effects, and realistic accompaniment
ACE Music tự hào khi trở thành đại lý chính thức của Công ty TNHH Âm Nhạc Yamaha Việt Nam cho các sản phẩm nhạc cụ: PIANO GỖ, DIGITAL PIANO, PORTABLE KEYBOARD, B&O, SYNTHESIZER, GUITAR, DRUM, PROFESSIONAL AUDIO, AUDIO VISUAL,.... Chúng tôi vinh hạnh là cầu nối giúp mang đến Quý khách hàng những sản phẩm nhạc cụ chất lượng chính hãng với giá tốt nhất.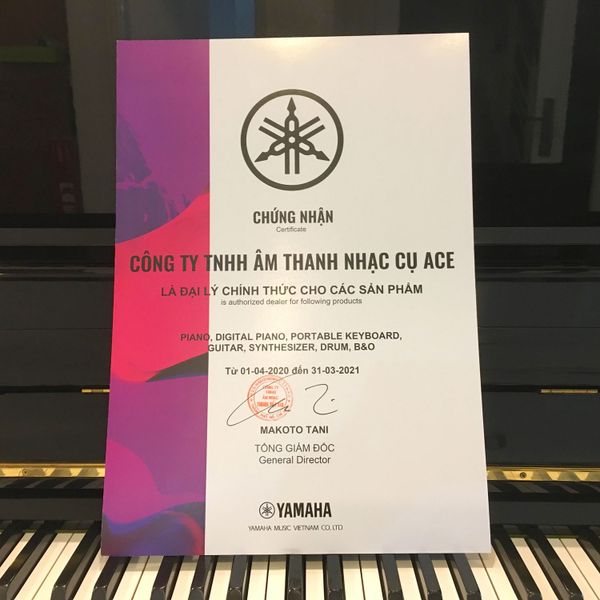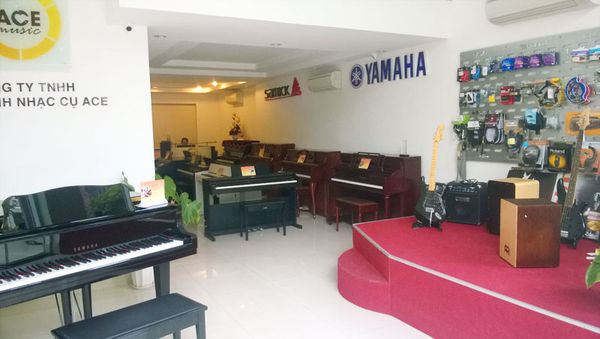 .
* Size/Weight
Dimensions
Width: 1140mm
Height: 142mm
Depth: 450mm
Weight: 14 kg
* Control Interface
Keyboard
Number of Keys: 61
Type: Organ (FSX), Initial Touch/Aftertouch
Touch Response: Hard1, Hard2, Medium, Soft1, Soft2
Other Controllers
Pitch Bend: Yes
Modulation: Yes
Sliders: 9 (including 1 assignable), Cross Fader
Art. Switches: 2
Display
Type: TFT VGA 7.5 inch LCD
Size: 640 x 480 dots
Color: Color
Language: English, German, French, Spanish, Italian
Panel
Language: English
* Voices
Tone Generation
Tone Generating Technology: AWM Stereo Sampling
Polyphony
Number of Polyphony (Max.): 128
Preset
Number of Voices: 1279 Voices + 480 XG Voices + 37 Drum/SFX Kits
Featured Voices: Ensemble 55 S.Art2! 44 / S.Art! 288 MegaVoice 54 / Live! 138 Cool! 81 / Sweet! 37 / Organ World 40
Custom
Optional Wave Capacity: MAX 1,024MB (Optional)
Sampling: Custom Voice
Voice Edit: Yes
Sound Creator/Voice Set: Yes
Compatibility
XG: Yes
GS: Yes
GM: Yes
GM2: Yes
Expandability
Expansion Voice: Yes *Wave Capacity: depends on the optional Flash Memory Expansion Module (FL1024M, FL512M)
Part: Right 1, Right 2, Right 3, Left
* Effects
Types
Reverb: 52 Presets + 3 User
Chorus: 106 Presets + 3 User
DSP
DSP1: 322 Presets + 3 User, DSP2-9: 322 Presets + 10 User
Master Compressor: 5 Presets + 5 User settings
Master EQ: 5 Presets + 2 User settings
Others
Mic effects: Noise Gate x 1, Compressor x 1, 3Band EQ x 1
Vocal Harmony
Number of Presets: Vocal Harmony: 44, Synth Vocoder: 10
Number of User Settings: 60 * The number is the total of Vocal Harmony and Synth Vocoder.
Vocal Effect: 23
* Accompaniment Styles
Preset
Number of Preset Styles: 539
Featured Styles: 40 + Audio, 7 FreePlay, 441 Pro, 51 Session
Fingering: Single Finger, Fingered, Fingered On Bass, Multi Finger, AI Fingered, Full Keyboard, AI Full Keyboard
Style Control: INTRO x 3, MAIN VARIATION x 4, FILL x 4, BREAK, ENDING x 3
Other Features
Music Finder: 2,500 Records
One Touch Setting (OTS): 4 for each Style
Expandability
Expansion Style: Yes
Expansion Audio Style: Yes Audio Capacity: approx. 124MB
Compatibility: Style File Format, Style File Format GE
* Songs
Preset
Number of Preset Songs: 5 Sample Songs
Recording
Number of Songs: Unlimited (depends on the drive capacity)
Number of Tracks: 16
Data Capacity: approx. 300 KB/Song
Recording Function: Quick Recording, Multi Recording, Step Recording
Compatible Data Format
Playback: SMF (Format 0 & 1), XF
Recording: SMF (Format 0)
* Functions
Registration
Number of Buttons: 8
Control: Registration Sequence, Freeze
Lesson/Guide
Lesson/Guide: Follow Lights, Any Key, Karao-Key, Your Tempo
Performance Assistant Technology (PAT): Yes
Demo/Help
Demonstration: Yes
Overall Controls
Metronome: Yes
Tempo Range: 5 – 500, Tap Tempo
Transpose: -12 – 0 – +12
Tuning: 414.8 – 440 – 466.8 Hz
Octave Button: Yes
Scale Type: 9 Presets
Miscellaneous
Direct Access: Yes
Text Display Function: Yes
Wallpaper Customization: Yes
Voices
Harmony/Echo: Yes
Panel Sustain: Yes
Mono/Poly: Yes
Voice Information: Yes
Styles
Style Creator: Yes
Style Recommender: Yes
OTS Information: Yes
Songs
Song Creator: Yes
Score Display Function: Yes
Lyrics Display Function: Yes
Multi Pads
Multi Pad Creator: Yes
Audio Recorder/Player
Recording Time (max.): 80 minutes/Song
Recording: .wav (WAV format: 44.1 kHz sample rate, 16 bit resolution, stereo)
Playback: .wav (WAV format: 44.1 kHz sample rate, 16 bit resolution, stereo), .mp3 (MPEG-1 Audio Layer-3: 44.1/48.0 kHz sample rate, 64–320 kbps and variable bit rate, mono/stereo)
Time Stretch: Yes
Pitch Shift: Yes
Vocal Cancel: Yes
Multi - Recording: .aud (Tyros5 original: 44.1 kHz sample rate, 16 bit resolution, stereo)
Multi - Playback: .aud (Tyros5 original: 44.1 kHz sample rate, 16 bit resolution, stereo)
* Storage and Connectivity
Storage
Internal Memory: approx. 6.7MB
Hard Disk Drive: 500GB
External Drives: USB Flash Memory (via USB to DEVICE)
Connectivity
Headphones: Yes
FOOT PEDAL: 1 (SUSTAIN), 2 (ARTICULATION 1), 3 (VOLUME), Function Assignable
Microphone: Yes (Combo Jack)
MIDI: MIDI A (IN/OUT), MIDI B (IN/OUT)
AUX IN: L/L+R, R
LINE OUT: MAIN (L/L+R, R), SUB OUT (1,2), SUB OUT (3,4 / AUX OUT)
RGB OUT: Yes
USB TO DEVICE: USB 2.0 x 2 (Front/Back)
USB TO HOST: USB 2.0 x 1
* Accessories
Included Accessories: Owner's Manual, Online Member Product Registration, AC Power Cord, Music Rest, two Music Rest Brackets, USB Wireless LAN Adaptor * May not be included depending on your particular area. Please check with your Yamaha dealer.
* Multi Pads
Preset
Number of Multi Pad Banks: 190 banks x 4 Pads
* Audio
Audio Link: Yes