-6 %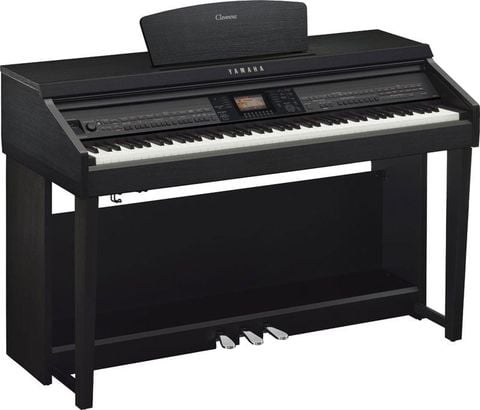 YAMAHA CVP-701 DIGITAL PIANO
Tình trạng: Còn hàng
63,800,000₫ 59,900,000₫
* Bao gồm: đàn, adaptor, chân, ghế
* Bảo hành: 12 tháng
ACE MUSIC ĐẠI LÝ CHÍNH THỨC CỦA CÔNG TY TNHH ÂM NHẠC YAMAHA VIỆT NAM

VUI LÒNG GỌI 0909 168 742 ĐỂ CÓ GIÁ TỐT

From the outstanding grand piano touch of the GH3X (Graded Hammer 3X) keyboard with escapement and synthetic ivory keytops to the intuitive design and integration with iPad, the Clavinova CVP-701 digital piano puts you in touch with your inner musician. At their heart, all Clavinovas are first and foremost a piano, and this has never been more true now that the CVP-701 includes Yamaha's Real Grand Expression technology. A variety of interactive music entertainment, education and performance features make these digital pianos just as enjoyable for beginners as they are for advanced pianists. A color screen makes operation easy and intuitive. Guide Lamps show which keys to play for the novice, while on-screen notation puts music in front of more experienced players.
Experience a purely digital piano with the heart of a true grand. You'll feel the difference from the very first notes you play. Realistic touch and response, paired with the unmistakeable tone of the finest concert grand pianos ever made, the Clavinova delivers expressive capabilities and a dynamic range that redefines the standard for digital pianos today.
PIANO CLAVINOVA CVP-701B //Y WITH BENCH : 63,800,000 VNĐ -> SALE 59,900,000 VNĐ
PIANO CLAVINOVA CVP-701PE //Y WITH BENCH : 77,100,000 VNĐ -> SALE 69,390,000 VNĐ
* Size/Weight
- Dimensions
Width: 1,352 mm (53-1/4") (Polished finish: 1,355 mm (53-3/8"))
Height: 918 mm (36-1/8") (Polished finish: 921 mm (36-1/4"))
Depth: 595 mm (23-7/16") (Polished finish: 596 mm (23-7/16"))
- Weight: 59.0 kg (130 lbs., 1 oz) (Polished finish: 61.5 kg (135 lbs., 9 oz))
* Control Interface
- Keyboard
Number of Keys: 88
Type: GH3X (Graded Hammer 3X) keyboard with synthetic ivory keytops, escapement
Touch Sensitivity: Hard2, Hard1, Medium, Soft1, Soft2, Fixed
Counterweight: Yes
- Pedal
Number of Pedals: 3
Half Pedal: Yes
Functions: Sustain, Sostenuto, Soft, Glide, Song Play / Pause, Style Start / Stop, Volume, etc.
- Display
Type: TFT Color LCD
Size: 4.3 inch (480 x 272 dots)
LCD Brightness: Yes
Color: Yes
Score Display Function: Yes
Lyrics Display Function: Yes
Language: English, Japanese, German, French, Spanish, Italian
- Panel
Language: English only
* Cabinet
- Key Cover
Key Cover Style: Sliding
- Music Rest: Yes
* Voices
- Tone Generation
Piano Sound: Yamaha CFX, Bösendorfer Imperial
Key-off Samples: Yes
Smooth Release: Yes
VRM: Yes
- Polyphony
Number of Polyphony (Max.): 256
- Preset
Number of Voices: 777 Voices + 29 Drum / SFX Kits + 480 XG Voices
Featured Voices: 10 VRM Voices, 49 Super Articulation Voices, 23 Mega Voices, 13 Natural! Voices, 26 Sweet! Voices, 58 Cool! Voices, 70 Live! Voices, 20 Organ Flutes! Voices
- Custom
Voice Edit: Yes
- Compatibility: XG, GS (for Song playback), GM, GM2
* Effects
- Types
Reverb: 58 Preset + 3 User
Chorus: 106 Preset + 3 User
DSP: 295 Preset + 3 User
Master Compressor: 5 Preset + 5 User
Master EQ: 5 Preset + 2 User
Part EQ: 27 Parts
Intelligent Acoustic Control (IAC): Yes
Stereophonic Optimizer: Yes
- Functions
Dual/Layers: Yes
Split: Yes
* Accompaniment Styles
- Preset
Number of Preset Styles: 310
Featured Styles: 253 Pro Styles, 21 Session Styles, 36 Pianist Styles
Fingering: Single Finger, Fingered, Fingered On Bass, Multi Finger, AI Fingered, Full Keyboard, AI Full Keyboard
Style Control: INTRO x 3, MAIN VARIATION x 4, FILL x 4, BREAK, ENDING x 3
- Custom
Style Creator: Yes
- Other Features
Music Finder: 1,200 Records
One Touch Setting (OTS): 4 for each Style
Style Recommender: Yes
- File Format: Style File Format GE (Guitar Edition)
* Songs
- Preset
Number of Preset Songs: 65
Recording: Number of Tracks: 16
Data Capacity: approx. 300 KB / Song
- Recording Function: Yes
- Compatible Data Format
Playback: SMF (Format 0 & 1), XF
Recording: SMF (Format 0)
* Functions
- Demo: Yes
- Registration
Number of Buttons: 8
Control: Registration Sequence, Freeze
- Lesson/Guide
Lesson/Guide: Follow Lights, Any Key, Karao-Key, Your Tempo
Guide Lamp: Yes
Performance Assistant Technology (PAT): Yes
- Piano Room: Yes
- USB Audio Recorder
Playback: WAV
Recording: WAV
- USB Audio
Time Stretch: Yes
Pitch Shift: Yes
Vocal Cancel: Yes
- Miscellaneous
Metronome: Yes
Tempo Range: Yes
Transpose: Yes
Tuning: Yes
Scale Type: 9
* Storage and Connectivity
- Storage
Internal Memory: approx. 2.8 MB
External Drives: USB Flash Drive
- Connectivity
Headphones: x 2
Microphone: Input Volume, Mic / Line In
MIDI: IN / OUT / THRU
AUX IN: Stereo mini
AUX OUT: L / L + R, R
AUX Pedal: Yes
USB TO DEVICE: Yes
USB TO HOST: Yes
* Amplifiers and Speakers
Amplifiers: 25 W x 2
Speakers: 16 cm x 2 [6 - 5/16" x 2]
Acoustic Optimizer: Yes
* Power Supply
Power Consumption: 22 W